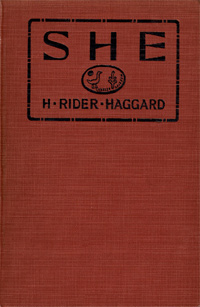 | | |
| --- | --- |
| Subtitle | A History of Adventure |
| First Written | 1887 |
| Genre | Fiction |
| Origin | UK |
| Publisher | Grosset & Dunlap |
| My Copy | red clothbound hardback, with photos printed from Lee-Bradford Photoplay starring Betty Blythe |
| First Read | December 31, 2010 |
SHE
---
If you've never read H. Rider Haggard, this is a great introduction. This novel has all the good hallmarks of a Haggard novel (adventure, hunting, africa, lost white civilizations, romance, magic, long-winded speeches), and the bad ones too (casual racism). But if you can get past the datedness, it's a really fun adventure.
Noted on January 6, 2011
Hard is it to die, because our delicate flesh doth shrink back from the worm it will not feel, and from that unknown which the winding-sheet doth curtain from our view. But harder still, to my fancy, would it be to live on, green in the leaf and fair, but dead and rotten at the core, and feel that other secret worm of recollection gnawing ever at the heart.
Quoted on April 10, 2013