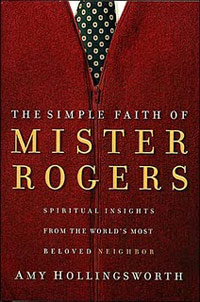 | | |
| --- | --- |
| Subtitle | Spiritual Insights blah blah blah |
| First Written | 2005 |
| Genre | Biography |
| Origin | US |
| Publisher | Integrity Publishing |
| ISBN-10 | 1591452295 |
| ISBN-13 | 978-1591452294 |
| My Copy | library hardback |
| First Read | March 13, 2011 |
The Simple Faith of Mister Rogers
---
OK, so this was definitely as sappy and religious-y as you'd expect. It's normally the kind of thing I'd avoid, but it's a short and sweet remembrance of the author's relationship with Mister Rogers - and specifically how his Christian faith shaped his show.

It was pleasant to remember the show, and convinced me I need to find some episodes to watch with Felix.
Noted on March 15, 2011
Sometimes he was invited to places in order to pray, as when he received an honorary doctorate (his twenty-fifth) from Boston University in 1992. The university had asked Fred to open the commencement ceremony with prayer. An older academic with a white beard rose to the podium to announce: "The invocation will now be delivered by Mister Fred Rogers." Before he could finish, the five thousand graduates went wild, whooping and hollering out the name of the man they had grown up with, the man whose daily visits convinced them they were "special." When Fred reached the podium, the tumult started again, cameras flashing through the crowd. How would he ever calm them down enough to pray? The answer seemed like the natural thing to do (to Fred at least). He leaned sheepishly into the mike and said, "You wanna sing with me?" and then chiding ever so slightly, "Why don't you just sit down, and we'll sing this song together." ... He was their robed curate, and their congregational response, uplifting and reminiscent, led right into prayer.
Quoted on March 15, 2011