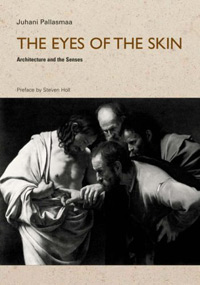 | | |
| --- | --- |
| Subtitle | Architecture and the Senses |
| First Written | 1996 |
| Genre | Architecture |
| Origin | US |
| Publisher | Academy Press |
| ISBN-10 | 0470015780 |
| ISBN-13 | 978-0470015780 |
| My Copy | library hardback |
| First Read | April 14, 2011 |
The Eyes of the Skin
---
A dry read, but an engaging essay about how architecture can engage all of the senses - not just the eyes. We see great drawings, renderings, and models of beautiful buildings before they're built, but once we visit them ... something seems lacking. Why?

It's more than just budget constraints, says Pallasmaa. It's because architecture as a profession works to appeal to the eye, but architecture in experiential reality has an appeal to all the senses - hearing, touch, smell, space.

It's full of great photos, and it really works like a presentation you'd see at a conference.
Noted on June 14, 2011
Architecture has the capacity to be inspiring, engaging and life-enhancing. But why is it that architectural schemes which look good on the drawing board or the computer screen can be so disappointing 'in the flesh'?
Quoted on June 14, 2011