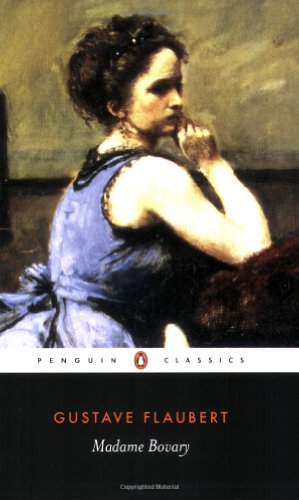 | | |
| --- | --- |
| First Written | 1857 |
| Genre | Fiction |
| Origin | France |
| Publisher | CreateSpace |
| ISBN-10 | 1466210303 |
| ISBN-13 | 978-1466210301 |
| My Copy | Library paperback |
| First Read | September 20, 2008 |
Madame Bovary
---
I really enjoyed Bovary this time - it really hits most of the notes I want my 19th-century novels to hit.
Noted on February 5, 2016
So, uh, I thought I was reading this for the first time in 2016 - but apparently I've got quotes here from 2011!
Noted on February 5, 2016
She would have liked not to be alive, or to be always asleep.
Quoted on February 9, 2016
Calming down, she eventually realized that she had probably slandered him. But the denigration of those we love always detaches us from them in some degree. Never touch your idols: the gilding will stick to your fingers.
Quoted on February 5, 2016
No matter! She was not happy, had never been so. Where did it come from, this feeling of deprivation, this instantaneous decay of the things in which she put her trust? ... Nothing, anyway, was worth that great quest; it was all lies! Every smile concealed the yawn of boredom, every joy a malediction, every satisfaction brought its nausea, and even the most perfect kisses only leave upon the lips a fantastical craving for the supreme pleasure.
Quoted on February 5, 2016
If her childhood had been spent in the dark back-room of a shop in some town, she would now perhaps have been kindled by the lyric surgings of nature which only normally reach us as through the interpretation of a writer. But she knew the country only too well; she knew the lowing of cattle, the milking, the ploughing. Familiar with the tranquil, she inclined, instead, toward the tumultuous.
Quoted on February 5, 2016
Be quiet, Monsieur Homais. You are an infidel; you've no religion. The chemist answered: "I have a religion, my religion, and I even have more than all these others with their mummeries and their juggling. I adore God, on the contrary. I believe in the Supreme Being, in a Creator, whatever he may be. I care little who has placed us here below to fulfil our duties as citizens and fathers of families; but I don't need to go to church to kiss silver plates, and fatten, out of my pocket, a lot of good-for-nothings who live better than we do. For one can know Him as well in a wood, in a field, or even contemplating the eternal vault like the ancients. My God! Mine is the God of Socrates, of Franklin, of Voltaire, and of Beranger! I am for the profession of faith of the 'Savoyard Vicar,' and the immortal principles of '89! And I can't admit of an old boy of a God who takes walks in his garden with a cane in his hand, who lodges his friends in the belly of whales, dies uttering a cry, and rises again at the end of three days; things absurd in themselves, and completely opposed, moreover, to all physical laws, which prove to us, by the way, that priests have always wallowed in turpid ignorance, in which they would fain engulf the people with them.
Quoted on September 30, 2011
Bravo!" said the chemist. "Now just send your daughters to confess to fellows which such a temperament! I, if I were the Government, I'd have the priests bled once a month. Yes, Madame Lefrancois, every month—a good phlebotomy, in the interests of the police and morals.
Quoted on September 30, 2011