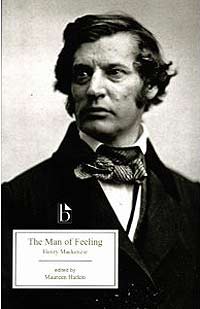 | | |
| --- | --- |
| First Written | 1771 |
| Genre | Fiction |
| Origin | UK |
| Publisher | Broadview Press |
| ISBN-10 | 1551114682 |
| ISBN-13 | 978-1551114682 |
| My Copy | clothbound hardback |
| First Read | September 23, 2007 |
The Man of Feeling
---
By the time he had reached the Square, and was walking along the pavement which led to the baronet's he had brought his reasoning on the subject to such a point, that the conclusion, by every rule of logic, should have led him to a thorough indifference in his approaches to a fellow-mortal, whether that fellow-mortal was possessed of six or six thousand pounds a year. It is probable, however, that the premises had been improperly formed: for it is certain, that when he approached the great man's door he felt his heart agitated by an unusual palpitation.
Quoted on October 4, 2011
Why, Jack shall make a fortune, dine on venison, and drink claret. --Ay, but Tom--Tom shall dine with his brother, when his pride will let him; at other times, he shall bless God over a half-pint of ale and a Welsh-rabbit; and both shall go to heaven as they may.
Quoted on October 4, 2011