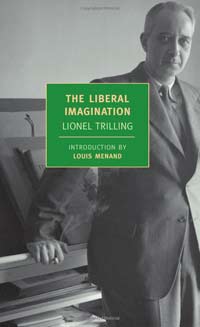 | | |
| --- | --- |
| Subtitle | Manners, Morals, and the Novel |
| First Written | 1950 |
| Genre | Lit Crit |
| Origin | US |
| Publisher | NYRB Classics |
| ISBN-10 | 1590172833 |
| ISBN-13 | 978-1590172834 |
| My Copy | library |
| First Read | June 29, 2007 |
The Liberal Imagination
---
Mark Twain said of Tom Sawyer that it 'is simply a hymn, put into prose form to give it a wordly air.' He might have said the same, and with even more reason, of Huckleberry Finn, which is a hymn to an older America forever gone, an America which had its great national faults, which was full of violence and even of cruelty, but which still maintained its sense of reality, for it was not yet enthralled by money, the father of ultimate illusion and lies. Against the money-god stands the river-god, whose comments are silent--sunlight, space, uncrowded time, stillness, and danger. It was quickly forgotten once its practical usefulness had passed, but, as Mr. Eliot's poem says, 'The river is within us...
Quoted on October 4, 2011
Some of the charm of the past consists of the quiet--the great distracting buzz of implication has stopped and we are left only with what has been fully phrased and precisely stated. And part of the melancholy of the past comes from our knowledge that the huge, unrecorded hum of implication was once there and left no trace--we feel that because it is evanescent it is especially human. We feel, too, that the truth of the great preserved monuments of the past does not fully appear without it. From letters and diaries, from the remote, unconscious corners of the great works themselves, we try to guess what the sound of the multifarious implication was and what it meant.
Quoted on October 4, 2011