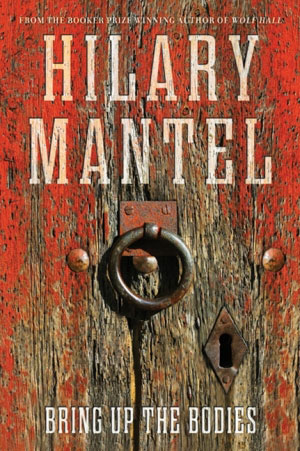 Bring Up the Bodies
---
On the other hand, maybe Mantel's master plan is to fully make Cromwell a monster by the end of the trilogy, and this is just the gathering personal storm...
Noted on July 2, 2016
Re-reading this right after WH, this does seem a bit less good. The first third is just a retread of WH, and by the second third cromwell's generosity and over all good-heartedness seems to have just vanished. Could the transition have been smoother? It nearly reads like a pastiche of WH. It makes me wonder if the booker prize must have been a consolation for missing giving it to WH.
Noted on July 2, 2016
AKA, the Continuing Adventures of Cromwell. Sequel to Wolf Hall, which I just read.

I don't know if I can oversell this - this, along with Wolf Hall, is SO GOOD. A page turner, well-written, and full of little historical goodies. I'm really looking forward to the end of the trilogy.
Noted on February 11, 2013
He is not in the habit of explaining himself. He is not in the habit of discussing his successes. But whenever good fortune has called on him, he has been there, planted on the threshold, ready to fling open the door to her timid scratch on the wood.
Quoted on July 2, 2016
He doesn't believe the dead need our prayers, nor can they use them. But anyone who knows the Bible as he does, knows that our God is a capricious God, and there's no harm in hedging your bets.
Quoted on July 2, 2016
It is better not to try people, not to force them to desperation. Make them prosper; out of superfluidity, they will be generous. Full bellies breed gentle manners. The pinch of famine makes monsters.
Quoted on July 2, 2016
When Gregory says, 'Are they guilty?' he means, 'Did they do it?' But when he says, "Are they guilty?' he means, 'Did the court find them so?' The lawyer's world is entire unto itself, the human pared away.
Quoted on July 2, 2016
On the day of Katherine's funeral, he finds himself downcast. How close we hug our enemies! They are our familiars, our other selves. ...So often in council he has taken Katherine's part, as if he were one of her appointed lawyers. 'You make this argument, my lords,' he has said, 'but the dowager princess will allege...' And 'Katherine will refute you, thus.' Not because he favors her cause but because it saves time; as her opponent, he enters into her concerns, he judges her stratagems, he reaches every point before she does.
Quoted on July 2, 2016
He once thought it himself, that he might die with grief: for his wife, his daughters, his sisters, his father and master the cardinal. But pulse, obdurate, keeps its rhythm. You think you cannot keep breathing, but your ribcage has other ideas, rising and falling, emitting sighs. You must thrive in spite of yourself; and so that you may do it, God takes out your heart of flesh, and gives you a heart of stone.
Quoted on July 2, 2016
Look, he says: once you have exhausted the process of negotiation and compromise, one you have fixed on the destruction of an enemy, that destruction must be swift and it must be perfect. Before you even glance in his direction, you should have his name on a warrant, the ports blocked, his wife and friends bought, his heir under your protection, his money in your strong room and his dog running to your whistle. Before he wakes in the morning, you should have the axe in your hand
Quoted on February 11, 2013
Why did you let her take the head off London Bridge?
Cromwell:"You know me, Stephen. The fluid of benevolence flows through my veins and sometimes overspills.
Quoted on February 11, 2013
You can be merry with the king, you can share a joke with him. But as Thomas More used to say, it's like sporting with a tamed lion. You tousle its mane and pull its ears, but all the time you're thinking, those claws, those claws, those claws.
Quoted on February 11, 2013