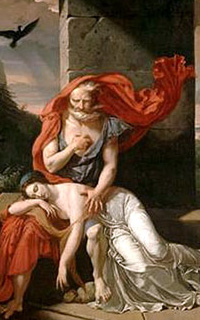 | | |
| --- | --- |
| Translator | Robert Fagles |
| First Written | -406 |
| Genre | Poetry |
| Origin | Athens |
| Publisher | CreateSpace |
| ISBN-10 | 1449552382 |
| ISBN-13 | 978-1449552381 |
| My Copy | found on the shelf while visiting friends |
| First Read | March 23, 2010 |
Oedipus at Colonus
---
Sure, we all know Oedipus Rex and Antigone, but what happens in Colonus again? Lots. I dipped into the Theban plays again while staying at a friend's place (thank goodness for friends with good bookshelves), and was delighted at how great this is.
Noted on April 13, 2010
It is not such a place as is famed in song and story, / But its name is great in the hearts of those that live here.
Quoted on April 29, 2010