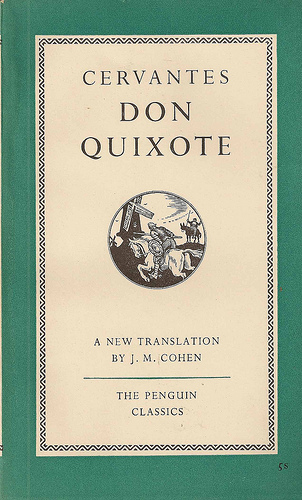 | | |
| --- | --- |
| First Written | 1605 |
| Genre | Fiction |
| Origin | Spain |
| My Copy | old clothbound |
| First Read | August 30, 2006 |
The Ingenious Gentleman Don Quixote de la Mancha
---
Beauty in a modest woman is like a distant fire or a sharp-edged sword: the one does not burn, the other does not cut, those who do not come near it.
Quoted on April 10, 2013
'By the life of my father,' exclaimed Sancho when he had heard the letter, 'that is the most high-flown thing I ever listened to. Why, damn me, how your Grace does manage to say everything here just the way it should be said, and how well you work that Knight of the Mournful Countenance into the signature! To tell the truth, your Grace is the very devil himself, and there's nothing you don't know.'

'In the profession that I follow,' replied Don Quixote, 'one needs to know everything.'
Quoted on April 10, 2013
But if you ask me, either your Grace is joking or this worthy gentleman must have a number or rooms to let inside his head.
Quoted on April 10, 2013
'Hold, gentleman, hold!' cried Don Quixote. 'It is not reasonable to take vengeance for the wrongs done us by love. Remember that love and war are one and the same thing; and just as in war it is permissible to use wiles and stratagems to overcome the enemy, so in amorous contests those deceptions that are employed in order to attain the desired object are looked upon as proper, providing they are not to the detriment or dishonor of the lady who is sought.'
Quoted on April 10, 2013
I will not repeat it all, since prolixity begets disgust.
Quoted on April 10, 2013