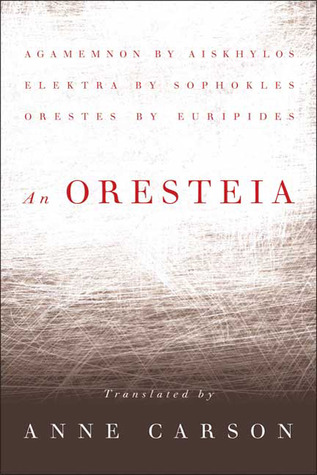 | | |
| --- | --- |
| Subtitle | Agamemnon by Aiskhylos / Elektra by Sophokles / Orestes by Euripides |
| Translator | Anne Carson |
| First Written | -408 |
| Genre | Poetry |
| Origin | Greece |
| Publisher | Faber & Faber |
| ISBN-10 | 086547916X |
| ISBN-13 | 978-0865479166 |
| My Copy | library hardback |
| First Read | April 18, 2013 |
An Oresteia
---
This is a sampling of an Oresteia - one play by each of three great playwrights.
Noted on April 20, 2013
But it seemed to Orestes and me
there ought to be a law against a mother like that.
Turns out there is: Apollo.
Apollo had us kill her.
Oretes did it, I helped. Kudos were not universal.
Quoted on April 20, 2013
From Anne Carson's introduction to Orestes:

On the other hand, as an allegory or abstract design, it lacks all exactitude- seems to unfold like a bolt of cloth falling down stairs, spilling itself, random. Yet again, isn't there something terrible in randomness- the idea that at the very bottom of its calculations, real depravity has no master plan of any kind, it's just a dreamy whim that slides out of people when they are trapped or bored or too lazy to analyze their own mania.
Quoted on April 20, 2013
KLYTAIMNESTRA: Call me
baseminded, blackmouthing bitch! if you like--
for if this is my nature
we know how I come by it, don't we?
Quoted on April 20, 2013
ORESTES: As for me--
what harm can it do
to die in words?
I save my life and win glory besides!
Can a mere story be evil? No,
of course not--
so long as it pays in the end.
Quoted on April 20, 2013
KLYTAIMESTRA: I said a lot of things before that sounded nice.
I'm not ashamed to contradict them now.
Quoted on April 20, 2013
CHORUS: Still at the edge of my heart the song of the
Furies keep nagging--
no one taught me this song and it has no music,
all the same it shakes me.
Quoted on April 20, 2013
AGAMEMNON: I am mortal. I can't trample luxuries underfoot. Honor me as a man not a divinity.
Anyway, who needs red carpets--my fame shouts aloud.
Here discretion is key.
Count no man happy until he dies happy.
If I keep this rule. I'll be okay.
Quoted on April 20, 2013
CHORUS: Zeus! whoever Zeus is --
If he likes this name I'll use it --
measuring everything that exists I can
compare with Zeus nothing
except Zeus.
Quoted on April 20, 2013