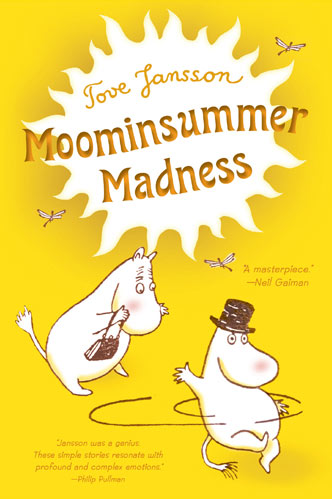 Moominsummer Madness
---
A notable thing - and almost worth recommendation in my book - is how these happy family stories have conflict and danger, but without any malice, or anger, or even real intent to harm anybody. And just when they seem too sweet or removed from life, one of the strange characters like Little My or Misabel will cut in with a gleefully cruel or sarcastic bit. In short, they seem both true and charmingly idealized.
Noted on August 21, 2013
Oh man, I was just delighted this summer to discover Tove Jannson's Moomin books. They're adorable to start with, and there's a mix of media here: comic strips, kids storybooks, and this series, which are 'chapter books', I guess.

These are small, delightful tales about the Moomin family and their friends and neighbors - they seem both familiar and totally inventive at the same time, like any good kids world should be. I can't wait to read these all to my kids.


Noted on August 21, 2013
Isn't it fun when one's friends get exactly what suits them?
Quoted on August 21, 2013
"Scare him!" replied Snufkin and clenched his teeth around the pipe-stem. "There's only one person in the whole world whom I really dislike, and that's the Park Keeper. I'm going to pull down all his notices about forbidden things."
Quoted on August 21, 2013