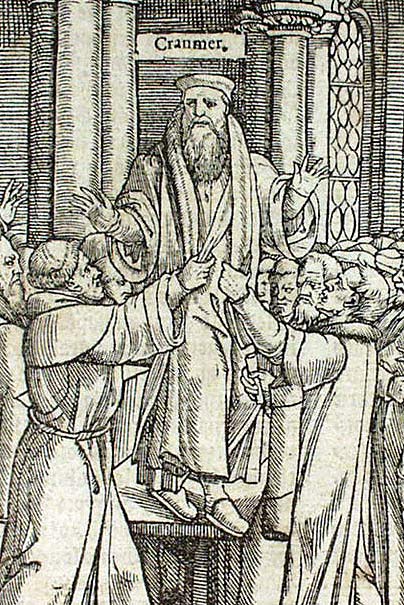 | | |
| --- | --- |
| Subtitle | a play |
| First Written | 1956 |
| Genre | Drama |
| Origin | UK |
| Publisher | Faber & Faber |
| My Copy | library hardback |
| First Read | April 26, 2014 |
The Trial of Thomas Cranmer
---
I found this because I really like Charles Williams' verse drama on Cranmer; and this play was dedicated to Williams' memory. Anne Ridler and I apparently had overlapping obsessions: she wrote books about Williams as well as Traherne, who I think is great.

Anyway, this verse drama was written to be performed at St. Mary's church in Oxford, at the very site where Cranmer was tried and executed. I'd just visited this spot and attended a Palm Sunday service there in 2014.

It's not particularly good in any way, but I think I lack the apparatus to really judge a verse drama in the first place. It's much more of a drama than a poem, and the story is compelling, if the writing isn't particularly.
Noted on May 1, 2014
"Love, and do what you will," was Augustine's hard saying:
Which of you will dare to interpret it? I--
I have tried, but it is not easy in these times.
Steer by the star of Reason, stand on the planks of precept-
That moment must come when the whirlpool swallows
Your steady ship; then you must fall
Into the hand of God. With trust or with terror--
That is the only choice.
Quoted on May 1, 2014
JOHN.
But yet is it true that you have changed your mind?

CRANMER.
Yes, it is true.

JOHN.
Then you can change again. You are not a bull-dog
Who holds to whatever he has taken in his teeth
And cannot let go. You are a scholar,
Accustomed to examine both sides of every question ...

CRANMER.
And O God, that is my torment!
Quoted on May 1, 2014
CRANMER.
Enough: you cannot frighten me with those. Though reason
Tells us that there must be a hell, she tells us also
That we must not set limits to the mercy of God.
Quoted on May 1, 2014