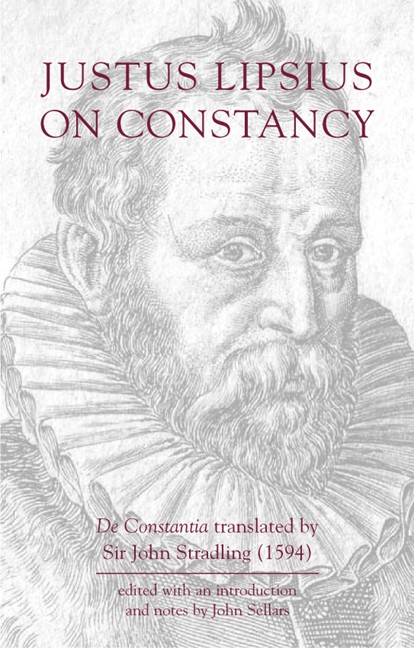 De Constantia
---
Now, chastisement reforms those that may be amended; punishment cuts away the incurable. ...Punishment is good in respect of those that be punished; for it is not properly vengeance or revenge, neither does the gentle deity "punish rigorously in rage" as a wicked poet said it well; but it is only a prohibition and restraint from wickedness.
Quoted on May 7, 2014
Lift up your eyes and look about with me, for it grieves me not to stand long upon this point, and behold the alterations of all human affairs, and the swelling and swaging of them as of the sea: arise you; fall you; rule you; obey you; hide you thy head; lift you up thine and let this wheel of changeable things run round, so long as this round world remains. Have you Germans in time past been fierce? You are now milder than most people of Europe. Have you Britons been uncivil heretofore? Now you exceed the Egyptians and people of Sybaris in delights and riches. Has Greece once flourished? Now let her be afflicted. Hast Italy swayed the scepter? Now let her be in subjection. You Goths, you Vandals, you vilest of the barbarians, peep you out of your lurking holes, and come rule the nations in your turn. Draw near you rude Scythians, and with a mighty hand hold a while the reins of Asia and Europe; yet you again soon after give place and yield up the scepter to another nation bordering on the ocean. Am I deceived? Or else do I see the sun of another new empire arising in the West?
Quoted on May 7, 2014
But he that is truly merciful in deed will not bemoan or pity the condition of distressed persons but yet will do more to help and succor them than the other. He will behold men's miseries with the eye of compassion yet ruled and guided by reason. He will speak to them with a sad countenance but not mourning or prostrate. He will comfort heartily, and help liberally. He will perform more in works than in words and he will stretch out his hand rather than his tongue.
Quoted on May 7, 2014
You will say, it is not of my country. O fool: are not they men, sprung first out of the same stock with you? Living under the same globe of heaven? Upon the same mold of earth? Do you think that this little plot of ground environed by such and such mountains, compassed with tis or that river, is your country? You are deceived. The whole world is our country, wherever the race of mankind is sprung of that celestial seed.
Quoted on May 7, 2014
Do you speak that from your heart, or only from the teeth outward?
Quoted on May 7, 2014
But the true mother of constancy is patience, and lowliness of mind, which is a voluntary sufferance without grudging of all things whatsoever can happen to or in a man.
Quoted on May 7, 2014
First therefore we must know what it is. "Constancy" is a right and immovable strength of the mind, neither lifted up nor pressed down with external or casual accidents. By strength I understand a steadfastness not from Opinion, but from judgment and sound Reason.
Quoted on May 7, 2014
To conclude, let them understand I have written many other things for others, but this book chiefly for myself; the former for fame, but this for profit. That which one before said bravely and acutely, the same I now truly proclaim. To me a few readers are enough, one is enough, none is enough. All that I desire is that whoever opens this book may bring with him a disposition to profit, and also to pardon.
Quoted on May 7, 2014