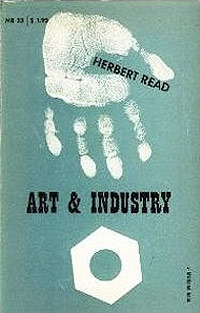 | | |
| --- | --- |
| Subtitle | the Principles of Industrial Design |
| First Written | 1936 |
| Genre | Design |
| Origin | US |
| My Copy | library hardback |
| First Read | June 15, 2001 |
Art and Industry
---
Read says, the only form of 'ornament' appropriate to machine-made goods is geometric. No way. Ornament is aesthetically necessary, as evidenced by the eye's propensity to shift to interesting things. That's horror vacui at work there.
Noted on May 6, 2010
Read asks, can the machine produce a work of art? Meaning: can we, using machines, create objects that carry the same intellectual, aesthetic, and unconscious appeal as fine art? Machines can produce 'abstract art' that resolves itself w/ numerical laws (i.e. golden mean), but what about more subtle things. Does he mean, can a machine create art? Probably not - but a machine can manufacture it. And if these 'subtler' forms differ from straight formulas by formulas, or by some way of describing it invented by some new math - then probably. Uniqueness is, at its root, a reflection of possessive impulse.
Noted on May 6, 2010
And at every stage we need the abstract artist, the artist who orders materials till they combine the highest degree of practical economy with the greatest result of creative freedom.
Quoted on May 6, 2010
All beautiful lines are drawn under mathematical laws organically transgressed.
Quoted on May 6, 2010