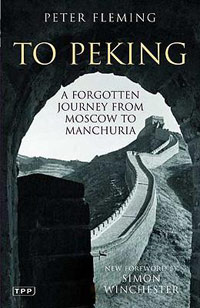 | | |
| --- | --- |
| Subtitle | A Forgotten Journey from Moscow to Manchuria |
| First Written | 1934 |
| Genre | Travel |
| Origin | The East |
| Publisher | Tauris Parke Paperbacks |
| ISBN-10 | 1845119967 |
| ISBN-13 | 978-1845119966 |
| My Copy | perfectbound, cheap paperback |
| First Read | May 13, 2010 |
To Peking
---
Oh, Peter. My favorite travel writer issued not only his well-considered travelogues, but also published diaries from shorter trips. Before the events of News from Tartary, Fleming traveled from Moscow to Peking via a few less-popular routes, and wrote down these notes along the way.

He published the diary more than twenty years later, and annotated them with clever, self-deprecating footnotes.

As is usual for Fleming, it's charmingly written, if you're tolerant of sardonic, outdated pseudo-imperialist condescension. But beyond the cute mannerisms and turns of phrase, the author traveled through parts of Asia that are as little-known today as they were then. If most Americans can't place Iraq on a map, just think how far-off, romantic, or downright imaginary a place like Samarkand or Tashkent might seem!
Noted on May 13, 2010
[on a hunting trip that devolved into a drunken romp with guns]
Among the rank-and-file of the expedition some rather wanton small-bird shooting broke out. A puppy turned up from somewhere. A small snake was caught and put in a bottle. A large number of water melons were commandeered from a field and eaten. March discipline was poor.
Quoted on May 16, 2010
[visiting an 'Anti-Religion Museum' in 1934 Moscow]
I wrote a rude crack in the visitor's book at the Anti-God Museum, where our cameras were confiscated, though the woman in charge could not say why; it looks as if they had not the courage of their lack of conviction.
Quoted on May 13, 2010
[shopping in Hailang]
We went and shopped, acquiring two magnificent shubas (fur coats of a wild and wooly type) and two fur hats for 30 dollars. An amusing face racket over the price, which was at last solved by throwing in a pair of gloves. Charming old woman, full of jokes about her age. We also got huge and for me uncomfortable felt boots, in a shop with a nice kitten where the man made Elizabethan jokes about the legitimacy of his child.
Quoted on May 16, 2010
At Niegoreloje we picked up a team of athletes returning with a vast and hideous piece of silverware from an allegedly victorious contest in Paris.
Quoted on May 13, 2010