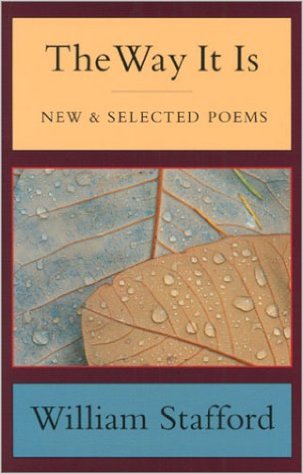 | | |
| --- | --- |
| Subtitle | New and Selected Poems |
| First Written | 1998 |
| Genre | Poetry |
| Origin | US |
| Publisher | Graywolf Press |
| ISBN-10 | 1555972845 |
| ISBN-13 | 978-1555972845 |
| My Copy | library copy |
| First Read | July 12, 2016 |
The Way It Is
---
I wasn't familiar with Stafford, but came across his poetry because a friend named their blog from a line.

But how did I miss this? This my favorite thing about being an art major - I still have all this great literature to discover. Stafford was from Kansas originally, so there's a nice native son element here.
Noted on July 24, 2016
Traveling through the Dark

Traveling through the dark I found a deer
dead on the edge of the Wilson River road.
It is usually best to roll them into the canyon:
that road is narrow; to swerve might make more dead.

By glow of the tail-light I stumbled back of the car
and stood by the heap, a doe, a recent killing;
she had stiffened already, almost cold.
I dragged her off; she was large in the belly.

My fingers touching her side brought me the reason—
her side was warm; her fawn lay there waiting,
alive, still, never to be born.
Beside that mountain road I hesitated.

The car aimed ahead its lowered parking lights;
under the hood purred the steady engine.
I stood in the glare of the warm exhaust turning red;
around our group I could hear the wilderness listen.

I thought hard for us all—my only swerving—,
then pushed her over the edge into the river.
Quoted on July 24, 2016
Ceremony

On the third finger of my left hand
under the bank of the Ninnescah
a muskrat whirled and bit to the bone.
The mangled hand made the water red.

That was something the ocean would remember:
I saw me in the current flowing through the land,
rolling, touching roots, the world incarnadined,
and the river richer by a kind of marriage.

Whiel in the woods an owl started quavering
with drops like tears I raised my arm.
Under the bank a muskrat was trembling
with meaning my hand would wear forever.

In that river my blood flowed own.
Quoted on July 24, 2016
Of the many histories, Earth tells only one-
Earth misses many things people tell about,
like maybe there are earthquakes we should have had,
or animals that know more love than God ever felt.

And we need these things: things in the wild need salt.

from Things in the Wild Need Salt
Quoted on July 24, 2016