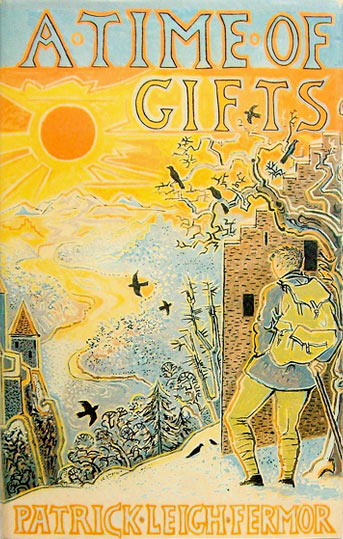 | | |
| --- | --- |
| Subtitle | On Foot to Constantinople: From the Hook of Holland to the Middle Danube |
| First Written | 1934 |
| Genre | Travel |
| Origin | UK |
| Publisher | NYRB Classics |
| ISBN-10 | 1590171659 |
| ISBN-13 | 978-1590171653 |
| My Copy | library paperback |
| First Read | August 23, 2016 |
A Time of Gifts
---
Oh, this is just my kind of book: a rolling travelogue by a slightly imperialist brit, but one who's all in, and ready to dive into adventure or circumstance. In this case, our author is a student who's been recently kicked out of his schools, and so decides to walk from England (well, after a channel crossing) to Constantinople. He'll carry a few pounds, but otherwise eat on the cheap and sleep wherever he can find shelter.

The most obviously fascinating thing about this is that he's traveling thru Europe on the eve of World War II - so he sees the growing influence of the Nazi party and the shadow of fascism.

He's also a hilarious writer, in just the sly-and-circumspect-but-then-over-the-top way that I like. See the passage about fat Bavarians for an example.
Noted on August 26, 2016
I lay deep in one of those protracted moments of rapture which scatter this journey like asterisks. A little more, I felt, and I would have gone up like a rocket.
Quoted on August 26, 2016
Apropos of Lewis Carroll and Lear and nonsense poetry in general, he introduced me to Christian Morgenstern. I developed an immediate passion for the characters in his poems and for the vague and hallucinating world they inhabit; a world in which unprincipled architects steal and make of with the empty spaces between the uprights of a railing; where unclassified creatures, followed by their young, stalk on the scene on their multiple noses; and where the legs of two boys, side by side in the cold, begin to freeze, one boy centigrade, the other fahrenheit ... Later on, the same inventor creates a giant wicker trap into which he lures a mouse by playing the violin, in order to set it free in the solitudes of a distant forest. Dreamland.
Quoted on August 26, 2016
I caught a first glimpse of Gypsies ...a tangle of brown children scampered and wrestled in the mud among the skirmishing and coupling dogs. I was soon sighted. This far-off glimpse launched a pattering of small feet and a swarm of snot-caked half-naked Mowglis who pummeled each other for precedence as they raced on their quarry.
Quoted on August 26, 2016
I shudder to think of the scourge I must have been. The idea that they are always welcome is a protective illusion of the young.
Quoted on August 26, 2016
A jungle of impedimenta encrusted the interior- mugs and bottles and glasses and antlers - the innocent accumulation of years, not stage props of forced conviviality - and the whole place glowed with a universal patina.
Quoted on August 26, 2016
Even as I trudged across it, early subconscious notions, when one first confused Germans with germs and knew that both were bad, still sent up fumes...
Quoted on August 26, 2016
My host was shoeing a great blond carthorse with a mane and tail of touseled flax. He waved when I went into his smithy and mumbled good morning through a mouthful of horsenails.
Quoted on August 26, 2016