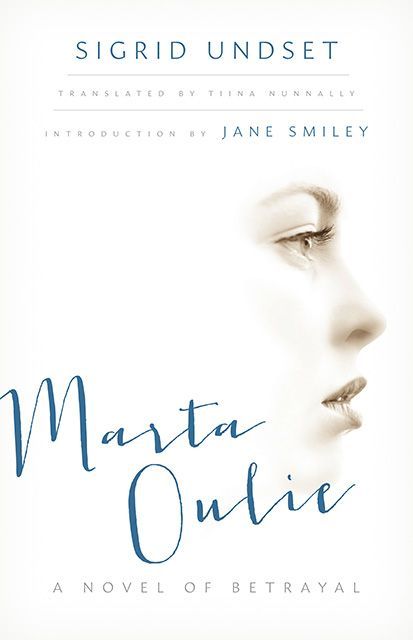 Marta Oulie
---
I've been meaning to read Sigrid Unset's big work, Kristin Lavransdatter, but this novella was available at the library first. It's short, and the author's first published work, and a new very modern-feeling translation. It's a first-person epistolary diary, about a woman dealing with the aftermath of an affair while her husband is dying.

It felt promising; not particularly riveting, but I'm still interested in reading her more famous work.

Also, while the translation felt very clear and a bit modern (considering it was written in 1907 and republished recently) - at one point the heroine describes some furniture as 'shabby-chic', which seemed weirdly out of place.
Noted on August 31, 2016
Later I grew annoyed with his constant, uncritical admiration of everything that belonged to him. But it was back then that I was right, when I saw only how handsome he was in his lively trust and joy. ... Now I take a more lenient view of many things, but that's because I too am guilty. When I was young and innocent I was a harsher judge.

We keep learning all our lives - but God help us what we learn. To understand everything is supposed to mean to forgive everything; if so, then may God spare me from those people who forgive too much. That's merely something we say to console ourselves when life starts to leave its mark on us, and we have done various things that we would have been ashamed of in our better days. Or else we don't have the courage and energy to live according to our own temperament, and so we relinquish some of our demands. But in the long run a person receives in accordance with what he demands. The young are single-minded. For them there is only one path to salvation, and if they are any good, that's the road they take. Later you catch sight of other paths, and you think that one is in fact just as good as the other. Then you sit down and say: they're all much the same. It's easy to put the blame on tolerance and understanding when you no longer feel like doing anything with your life. But it takes single-mindedness and tenacity to achieve something, because aspirations are required, and that is the way of youth.
Quoted on September 1, 2016