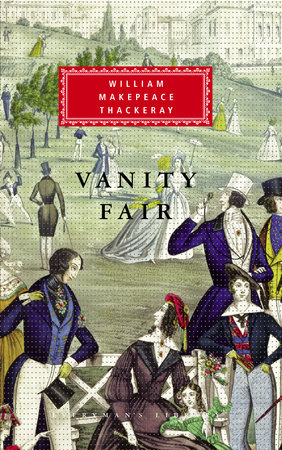 | | |
| --- | --- |
| Subtitle | A Novel without a Hero |
| First Written | 1848 |
| Genre | Fiction |
| Origin | UK |
| Publisher | Modern Library |
| My Copy | modern library red cloth hardback |
| First Read | March 05, 2020 |
Vanity Fair
---
I mean, it's obviously good. I just don't enjoy reading it.
Noted on March 27, 2020
Thinking about how Thackeray compares to Dickens or Trollope (both of whom I love), I think maybe it comes down to the author's clear affection for his subjects. Dickens and Trollope really love their characters, as humans - even the villains and caricatures still feel rooted in brotherly-kindness somehow. But Thackeray has this sense of despising his characters a bit, which reminds me of Stendhal or some other french authors I've never jived with.
Noted on March 27, 2020
This was my second? third? attempt at Vanity Fair, and I think I got a little further this time than last before giving up. I really love a Victorian novel, but man, this one does not land for me.
Noted on March 27, 2020
Vanity Fair—Vanity Fair! Here was a man, who could not spell, and did not care to read—who had the habits and the cunning of a boor: whose aim in life was pettifogging: who never had a taste, or emotion, or enjoyment, but what was sordid and foul; and yet he had rank, and honours, and power, somehow: and was a dignitary of the land, and a pillar of the state.
Quoted on March 27, 2020
If people would but leave children to themselves; if teachers would cease to bully them; if parents would not insist upon directing their thoughts, and dominating their feelings—those feelings and thoughts which are a mystery to all (for how much do you and I know of each other, of our children, of our fathers, of our neighbour, and how far more beautiful and sacred are the thoughts of the poor lad or girl whom you govern likely to be, than those of the dull and world-corrupted person who rules him?)—if, I say, parents and masters would leave their children alone a little more, small harm would accrue.
Quoted on March 27, 2020
And oh, what a mercy it is that these women do not exercise their powers oftener! We can't resist them, if they do. Let them show ever so little inclination, and men go down on their knees at once: old or ugly, it is all the same. And this I set down as a positive truth. A woman with fair opportunities, and without an absolute hump, may marry WHOM SHE LIKES. Only let us be thankful that the darlings are like the beasts of the field, and don't know their own power. They would overcome us entirely if they did.
Quoted on March 27, 2020
The world is a looking-glass, and gives back to every man the reflection of his own face.
Quoted on March 27, 2020