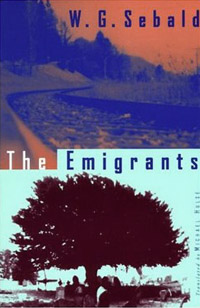 | | |
| --- | --- |
| First Written | 1993 |
| Genre | Fiction |
| Origin | Germany |
| Publisher | New Directions |
| ISBN-10 | 0811213668 |
| ISBN-13 | 978-0811213660 |
| My Copy | library bopy |
| First Read | September 21, 2010 |
The Emigrants
---
Read on a recommendation from Patrick. This is disturbingly good, and without any research I had no idea if this was fact, fiction, or a deft blend of the two.

It is shockingly good, and I really feel like I lack the language to describe how strange and lovely it is.
Noted on September 21, 2010
I drove northwest along Highway 17 ... past sprawling townships which, though some of their names were familiar, all seemed to be in the middle of nowhere. Monroe, Monticello, Middletown, Wurtsboro, Wawarsing, Colchester and Cadosia, Deposit, Delhi, Neversink and Niniveh - I felt as if I and the car I sat in were being guided by remote control through an outsize toyland where the place names had been picked at random by some invisible giant child, from the ruins of another world long since abandoned.
Quoted on September 21, 2010
This period of my imaginary Americanization, during which I crisscrossed the entire United States, now on horseback, now in a dark brown Oldsmobile, peaked between my sixteenth and seventeenth years in my attempt to perfect the mental and physical attitudes of a Hemingway hero, a venture in mimicry that was doomed to failure for various reasons that can easily be imagined.
Quoted on September 21, 2010