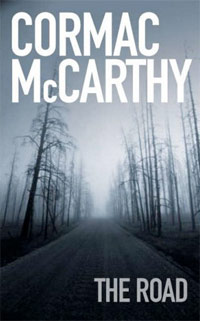 | | |
| --- | --- |
| First Written | 2007 |
| Genre | Fiction |
| Origin | US |
| Publisher | Vintage |
| ISBN-10 | 9780307387899 |
| ISBN-13 | 978-0307387899 |
| My Copy | library |
| First Read | March 21, 2011 |
The Road
---
EK thought the ending was unearned, not in keeping with the rest of the book. And while it does feel very deux ex machina, I think there's something great about the revelation that there were concerned, kind strangers out on the road, and the Man's fierce protection / defensiveness / rugged individualism was actually keeping them from finding the other 'good guys'.

And of course that's a universal coming-of-age moment, 'maybe my parents weren't right about everything', but it's I think a really masterful way to end the book.

The book is so concerned with generational transfer: the man protects the boy, sheltering him and protecting him (even in the face of certain death, sooner or later), teaching him a strict survival ethic, the notion of carrying the fire. But as the Man sickens, you see the Boy take on more responsibility but also his ethics push back and expand. The man is so concerned with protecting the boy that he doesn't, can't reach out and expand that protection to others: we can't, we'll starve, we'll die, etc - but the boy knows that they should. And when the man does finally die, the boy finds that there are others, that they have been nearby, and they CAN afford to seek out others and protect them. The man's extremely western, manly protection is what kept them from finding some larger, safer community. It's quite a reversion and undermining of the story.

And for all that, all that rugged violent 'carrying the fire' still totally rings true! It's so convincing! All the way until the end the reader is confronted with the questions of: could I do that? would I do that? For me there is no ring of this story just being post-apocalypse disaster fantasy that every prepper dreams of, that allows them get out their guns and break open the canned beans. It doesn't feel that way at all, it feels true and horrible and oppressive.
Noted on September 6, 2020
A second reading, this time in print rather than the emotionally-battering audio version I listened to last time. Still unrelentingly grim, still beautiful.
Noted on September 6, 2020
Punctuation is a luxury of the world that's gone.
Noted on September 6, 2020
I've never read McCarthy, and I was shocked at how good this was. It is rich, and amazing, and meant to be savored. You can read about the plot elsewhere, but I highly recommend it if you can stomach the book.

It's not a horror novel, but it is full of horrible things - but they seem like they're needed. McCarthy really includes only the minimum necessary horribleness to get you to really feel the terror and loneliness of the post-apocalyptic world. However, it's the man's feelings for the boy and his desperation that were really difficult to get through for me.


Noted on March 22, 2011
Slumping along. Filthy, ragged, hopeless. He'd stop and lean on the cart and the boy would go on and then stop and look back and he would raise his weeping eyes and see him standing there in the road looking back at him from some unimaginable future, glowing in that waste like a tabernacle.
Quoted on September 6, 2020
I think maybe they are watching, he said. They are watching for a thing that even death cannot undo and if they do not see it they will turn away from us and they will not come back.
Quoted on September 6, 2020
Do you think that your fathers are watching? That they weigh you in their ledgerbook? Against what? There is no book and your fathers are dead in the ground.
Quoted on September 6, 2020
People were always getting ready for tomorrow. I didnt believe in that. Tomorrow wasnt getting ready for them. It didnt even know they were there.
Quoted on September 6, 2020
She held his hand in her lap and he could feel the tops of her stockings through the thin stuff of her summer dress. Freeze this frame. Now call down your dark and your cold and be damned.
Quoted on September 6, 2020
Whose would be? The day providential to itself. The hour. There is no later. This is later. All things of grace and beauty such that one holds them toheart have a common provenance in pain. Their birth in grief and ashes. So, he whispered to the sleeping boy. I have you.
Quoted on September 6, 2020
He remembered waking once on such a night to the clatter of crabs in the pan where he'd left steakbones from the night before. Faint deep coals of the driftwood fire pulsing in the onshore wind. Lying under such a myriad of stars. The sea's black horizon. He rose and walked out and stood barefoot in the sand and watched the pale surf appear all down the shore and roll and crash and darken again. When he went back to the fire he knelt and smoothed her hair as she slept and he said if he were God he would have made the world just so and no different.
Quoted on March 22, 2011
Standing at the edge of a winter field among rough men. The boy's age. A little older. Watching while they opened up the rocky hillside ground with pick and mattock and brought to light a great bolus of serpents perhaps a hundred in number. Collected there for a common warmth. The dull tubes of them beginning to move sluggishly in the cold hard light. Like the bowels of some great beast exposed to the day. The men poured gasoline on them and burned them alive, having no remedy for evil but only for the image of it as they conceived it to be.
Quoted on March 22, 2011
By then all stores of food had given out and murder was everywhere upon the land. The world soon to be largely populated by men who would eat your children in front of your eyes and the cities themselves held by cores of blackened looters who tunneled among the ruins and crawled from the rubble white of tooth and eye carrying charred and anonymous tins of food in nylon nets like shoppers in the commissaries of hell. The soft black talc blew through the streets like squid ink uncoiling along a sea floor and the cold crept down and the dark came early and the scavengers passing down the steep canyons with their torches trod silky holes in the drifted ash that closed behind them silently as eyes. Out on the roads the pilgrims sank down and fell over and died and the bleak and shrouded earth went trundling past the sun and returned again as trackless and as unremarked as the path of any nameless sisterworld in the ancient dark beyond.
Quoted on March 22, 2011