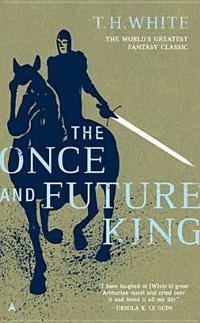 | | |
| --- | --- |
| First Written | 1958 |
| Genre | Fiction |
| Origin | UK |
| Publisher | HarperCollins |
| ISBN-10 | 0006483011 |
| ISBN-13 | 978-0006483011 |
| My Copy | cheap paperback |
| First Read | April 26, 2007 |
The Once and Future King
---
There is a thing called knowledge of the world, which people do not have until they are middle-aged. It is something which cannot be taught to younger people, because it is not logical and does not obey laws which are constant. It has no rules. Only, in the long years which bring women to the middle of life, a sense of balance develops. You can't teach a baby to walk by explaining the matter to her logically -- she has to learn the strange poise of walking by experience. In some way like that, you cannot teach a young woman to have knowledge of the world. She has to be left to the experience of the years. And then, when she is beginning to hate her used body, she suddenly finds that she can do it. She can go on living -- not by principle, not by deduction, not by knowledge of good and evil, but simply by a peculiar and shifting sense of balance which defies each of these things often. She no longer hopes to live by seeking the truth -- if women ever do hope this -- but continues henceforth under the guidance of a seventh sense. Balance was the sixth sense, which she won when she first learned to walk, and now she has the seventh one -- knowledge of the world.

The slow discovery of the seventh sense, by which both men and women contrive to ride the waves of a world in which there is war, adultery, compromise, fear, stultification and hypocrisy -- this discovery is not a matter for triumph. The baby, perhaps, cries out triumphantly: I have balance! But the seventh sense is recognized without a cry. We only carry on with our famous knowledge of the world, riding the queer waves in a habitual, petrifying way, because we have reached a stage of deadlock in which we can think of nothing else to do.

And at this stage we begin to forget that there ever was a time when we lacked the seventh sense. We begin to forget, as we go stolidly balancing along, that there could have been a time when we were young bodies flaming with the impetus of life. It is hardly consoling to remember such a feeling, and so it deadens in our minds.

But there was a time when each of us stood naked before the world, confronting life as a serious problem with which we were intimately and passionately concerned. There was a time when it was of vital interest to us to find out whether there was a God or not. Obviously the existence or otherwise of a future life must be of the very first importance to somebody who is going to live her present one, because her manner of living it must hinge on the problem. There was a time when Free Love versus Catholic Morality was a question of as much importance to our hot bodies as if a pistol had been clapped to our heads.

Further back, there were times when we wondered with all our souls what the world was, what love was, what we were ourselves.

All these problems and feelings fade away when we get the seventh sense. Middle-aged people can balance between believing in God and breaking all the commandments, without difficulty. The seventh sense, indeed, slowly kills all the other ones, so that at last there is no trouble about the commandments. We cannot see any more, or feel, or hear about them. The bodies which we loved, the truths which we sought, the Gods whom we questioned: we are deaf and blind to them now, safely and automatically balancing along toward the inevitable grave, under the protection of our last sense. "Thank God for the aged", sings the poet:

Thank God for the aged
And for age itself, and illness and the grave.
When we are old and ill, and particularly in the coffin,
It is no trouble to behave.

Guenever was twenty-two as she sat at her petit point and thought of Lancelot. She was not half-way to her coffin, not ill even, and she had only six senses. It is difficult to imagine her.
Quoted on March 19, 2013
Even if you have to read it twice, like something in a history book, this pedigree is a vital part of the tragedy of King Arthur. It is why Sir Thomas Mallory called his very long book the Death of Arthur. Although nine tenths of the story seem to be about knights joustings and quests for the holy grail and things of that sort, the narrative is a whole, and it deals with the reasons why the young man came to grief at the end. It is the tragedy, the Aristotelian and comprehensive tragedy, of sin coming home to roost. That is why we have to take note of the parentage of Arthur's son Mordred, and to remember, when the time comes, that the king had slept with his own sister. He did not know he was doing so, and perhaps it may have been due to her, but it seems, in tragedy, that innocence is not enough.

EXPLICIT LIBER SECUNDUS
Quoted on March 4, 2013
It was like being a member of a band of starlings, or of roosting rooks. In the night mystery a hundred men breathed on every side of Wart, like the surge of our own blood which we can hear when we are writing or reading in the late and lonely hours. They were in the dark and stilly womb of night.
Quoted on March 4, 2013
'It is all very well for Bors,' he said complainingly, 'but what about the hermit? What about Sir Colgrevance? Why didn't God save them?" 'Dogmas are difficult things,' said Arthur. Guenever said: "We don't know what their past history was. The killing didn't do any harm to their souls. Perhaps it even helped their souls, to die like that. Perhaps God gave them this good death because it was the best thing for them.
Quoted on October 5, 2011
Why did not Lancelot make love to Guenever, or run away with his hero's wife altogether, as any enlightened man would do today? One reason for his dilemma was that he was a Christian. The modern world is apt to forget that several people were Christians in the remote past, and in Lancelot's time there were no Protestants--except John Scotus Erigena. His Church, in which he had been brought up--and it is difficult to escape from your upbringing--directly forbade him to seduce his best friend's wife.
Quoted on October 5, 2011
So we may well believe that the King's men were shriven on the night before they fought. Something of the young man's vision had penetrated to his captains and his soldiers. Something of the new ideal of the Round Table which was to be born in pain, something about doing a hateful and dangerous action for the sake of decency--for they knew that the fight was to be fought in blood and death without reward. They would get nothing but the unmarketable conscience of having done what they ought to do in spite of fear--something which wicked people have often debased by calling it glory with too much sentiment, but which is glory all the same. This idea was in the hearts of the young men who knelt before the God-distributing bishops--knowing that the odds were three to one, and that their own warm bodies might be cold at sunset.
Quoted on October 5, 2011