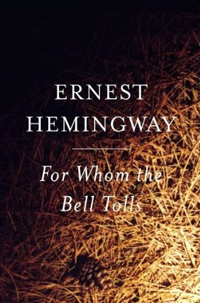 | | |
| --- | --- |
| First Written | 1940 |
| Genre | Fiction |
| Origin | US |
| Publisher | Scribner |
| ISBN-10 | 0684803356 |
| ISBN-13 | 978-0684803357 |
| My Copy | library copy |
| First Read | February 17, 2010 |
For Whom the Bell Tolls
---
As a recent NYT editorial pointed out, being narrowly-read has its pleasures. Reading Hemingway for the first time in your thirtieth year is one of them. I tried to read this in high school but hated it, and picked it up again at the behest of a friend. Amazing. Sometimes I think I just didn't know how to read when I was 17.
Noted on March 8, 2010
You have four grenades in your pocket but they are only good to throw away. You have a carbine on your back but it is only good to give away bullets. You have a message to give away. And you're full of crap that you can give to the earth, he grinned in the dark. You can anoint it also with urine. Everything you have is to give. Thou art a phenomenon of philosophy and an unfortunate man, he told himself and grinned again.
Quoted on February 22, 2010
He was happy with that sudden, rare happiness that can come to anyone with a command in a revolutionary army; the happiness of finding that even one of your flanks holds.
Quoted on February 17, 2010