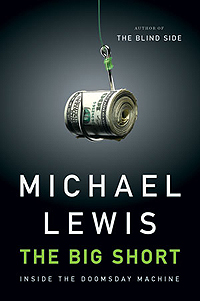 | | |
| --- | --- |
| Subtitle | Inside the Doomsday Machine |
| First Written | 2010 |
| Genre | Finance |
| Origin | US |
| Publisher | W. W. Norton & Company |
| ISBN-10 | 0393072231 |
| ISBN-13 | 978-0393072235 |
| My Copy | library hardback |
| First Read | June 01, 2010 |
The Big Short
---
The quickest most engaging read you'll find on the financial collapse of 2007. I've heard others get super-depressed about how Lewis reveals dishonesty, malice, and general stupidity in the finance world*, but I was much more interested in Lewis' heroes. These guys are smart, sharp, very interesting people, and I was rooting for them the whole time.

If you like Planet Money, or the This American Life episodes on the financial crisis, you'll dig The Big Short.

*And honestly, it's high finance; what kind of moral rigor were you expecting? No offense, finance folks, but we know the stereotypes.
Noted on June 1, 2010
Eisman had a curious way of listening; he didn't so much listen to what you were saying as subcontract to some remote region of his brain the task of deciding whether whatever you were saying was worth listening to, while his mind went off to play on its own. As a result, he never actually heard what you said to him the first time you said it. If his mental subcontractor detected a level of interest in what you had just said, it radioed a signal to the mother ship, which then wheeled around with the most intense focus. "Say that again," he'd say. And you would!
Quoted on June 1, 2010
Theirs was a union of the weirdly like-minded. Ben shared Charlie and Jamie's view that people, and markets, tended to underestimate the probability of extreme change, but he took his thinking a step further. Charlie and Jamie were interested chiefly in the probabilities of disasters in financial markets. Ben walked around with some very tiny fraction of his mind alert to the probabilities of disaster in real life.
Quoted on June 1, 2010