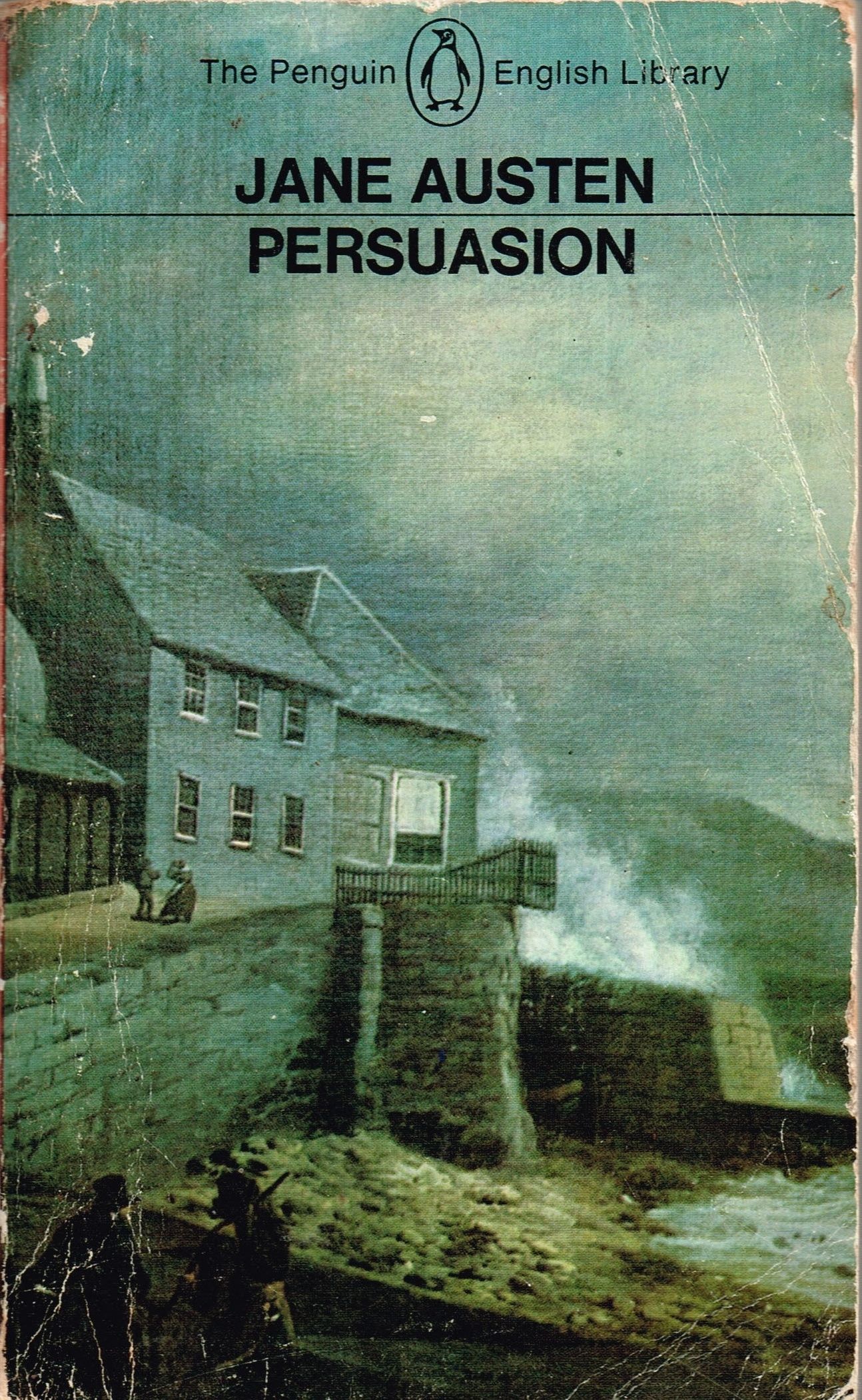 | | |
| --- | --- |
| First Written | 1818 |
| Genre | Fiction |
| Origin | UK |
| Publisher | Penguin |
| My Copy | cheap paperback |
| First Read | August 02, 2018 |
Persuasion
---
Did I like Persuasion? Honestly, it's been a few months and I don't remember. It's a solid Austen, and has a more acerbic angle - dare I say grim - than I expected. But maybe I've been away from the real Austen for too long. But I read this in a progression of Trollope > Eliot > Austen, which is a weird one.
Noted on December 2, 2018
In the course of a second visit she talked with great openness, and Anne's astonishment increased. She could scarcely imagine a more cheerless situation in itself than Mrs Smith's. She had been very fond of her husband: she had buried him. She had been used to affluence: it was gone. She had no child to connect her with life and happiness again, no relations to assist in the arrangement of perplexed affairs, no health to make all the rest supportable. Her accommodations were limited to a noisy parlour, and a dark bedroom behind, with no possibility of moving from one to the other without assistance, which there was only one servant in the house to afford, and she never quitted the house but to be conveyed into the warm bath. Yet, in spite of all this, Anne had reason to believe that she had moments only of languor and depression, to hours of occupation and enjoyment. How could it be? She watched, observed, reflected, and finally determined that this was not a case of fortitude or of resignation only. A submissive spirit might be patient, a strong understanding would supply resolution, but here was something more; here was that elasticity of mind, that disposition to be comforted, that power of turning readily from evil to good, and of finding employment which carried her out of herself, which was from nature alone. It was the choicest gift of Heaven; and Anne viewed her friend as one of those instances in which, by a merciful appointment, it seems designed to counterbalance almost every other want.
Quoted on December 2, 2018
Mrs Musgrove was of a comfortable, substantial size, infinitely more fitted by nature to express good cheer and good humour, than tenderness and sentiment; and while the agitations of Anne's slender form, and pensive face, may be considered as very completely screened, Captain Wentworth should be allowed some credit for the self-command with which he attended to her large fat sighings over the destiny of a son, whom alive nobody had cared for.

Personal size and mental sorrow have certainly no necessary proportions. A large bulky figure has as good a right to be in deep affliction, as the most graceful set of limbs in the world. But, fair or not fair, there are unbecoming conjunctions, which reason will patronize in vain--which taste cannot tolerate--which ridicule will seize.
Quoted on December 2, 2018
[Grandmas have been spoiling kids since 1818]
Mary's declaration was, "I hate sending the children to the Great House, though their grandmamma is always wanting to see them, for she humours and indulges them to such a degree, and gives them so much trash and sweet things, that they are sure to come back sick and cross for the rest of the day."
Quoted on December 2, 2018
He had very good spirits, which never seemed much affected by his wife's occasional lowness, bore with her unreasonableness sometimes to Anne's admiration, and upon the whole, though there was very often a little disagreement (in which she had sometimes more share than she wished, being appealed to by both parties), they might pass for a happy couple.
Quoted on December 2, 2018