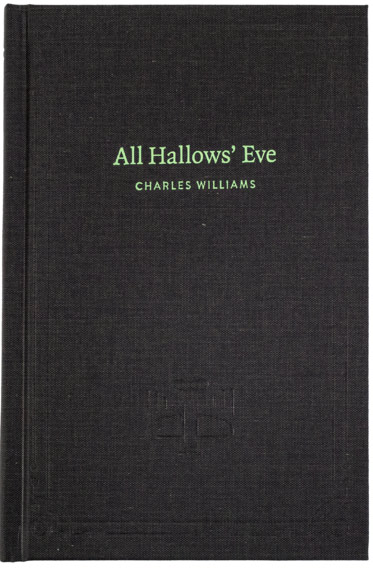 | | |
| --- | --- |
| First Written | 1945 |
| Genre | Fiction |
| Origin | UK |
| Publisher | Studio Kirkland |
| ISBN-10 | 0997700947 |
| ISBN-13 | 978-0997700947 |
| My Copy | Studio Kirkland edition! |
| First Read | April 10, 2019 |
All Hallows' Eve
---
All, all was ending; this, after so many preludes, was certainly death. This was the most exquisite and pure joy of death, in a bearing of bitterness too great to be borne. Above her the sky every moment grew more high and empty; the rain fell from a source far beyond all clouds. Below her the myriad drops, falling in slanting lines, struck the great river in innumerable little explosions, covering the whole surface. She saw each of them with an admirable exactitude-each at the same time as she saw all, and the flowing river and the empty sky, and herself no longer bodily understood, but a point, a point reflected from many drops and pierced by many drops, a spark of the light floating in the air.
Quoted on April 18, 2019
He had been used to think that nothing could shock him; he had been wrong. The universe is always capable of a worse trick than we suppose, but at least when we have known it we are no longer surprised by anything less.
Quoted on April 18, 2019
Dimly there moved in her, since her reconciliation with Betty, a sense that love was a union of having and not-having, or else something different and beyond both. It was a kind of way of knowledge, and that knowledge perfect in its satisfaction.
Quoted on April 18, 2019
There is no rule more wise in magic than that which bids the adept, if the operation go awry, break it off at once. In the circles of hell there is no room for any error; the only maxim is to break off and begin again.
Quoted on April 18, 2019
His virtue, with some difficulty, maintained itself in the uncertain center of his mind.
Quoted on April 18, 2019
She could not help being aware of Evelyn, and a slow recollection of her past with Evelyn forced itself on her mind. She knew she had never really liked Evelyn, but Evelyn had been a habit, almost a drug, with which she filled spare hours.
Quoted on April 18, 2019
She had always been willing, as it is called, "to face facts"; indeed, her chief danger had been that, in a life with no particular crisis and no particular meaning, she would invent for herself facts to face.
Quoted on April 18, 2019
...there was only the smile – no pain, no outcry, no obscenity, except that something truly obscene was there. He saw, visibly before him, the breach of the spiritual law. He saw a man sitting still and a woman standing just within the wall, a slight thing, and so full of vileness that he almost fainted.
Quoted on April 18, 2019
"Why isn't one taught how to be loved? Why isn't one taught anything?"
Betty said, "Don't worry, Richard; we can't be taught till we can learn."
Quoted on April 18, 2019