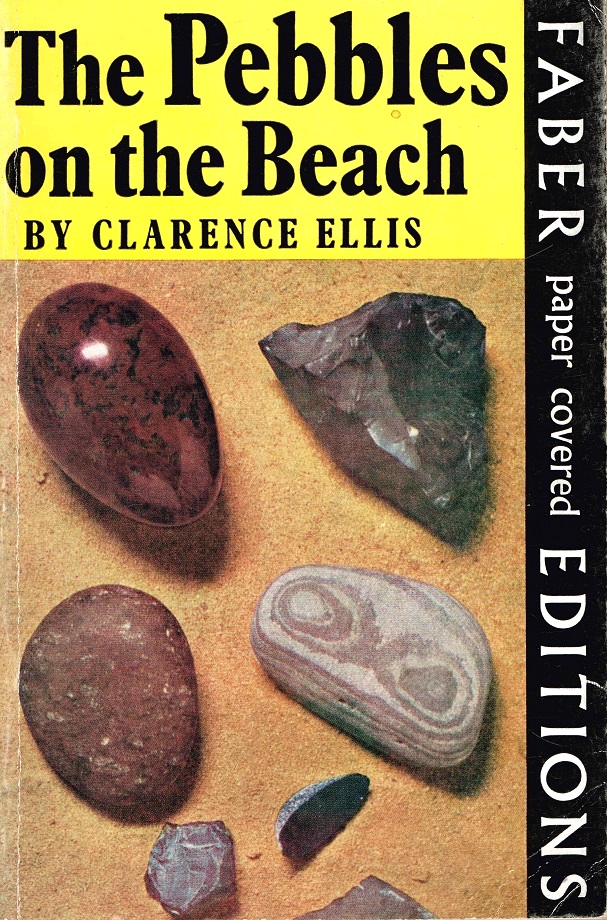 The Pebbles on the Beach
---
It starts with an explanation of 'what makes a shingle beach' (which I had to google, it's a beach of pebbles/stones instead of sand), and succinctly explains how and why pebbles end up on beaches. Then there's an intro to different kinds of pebbles, semi precious stones. The only sloggy bit is 40 pages of descriptions of English and Welsh beaches, which are hard to parse as someone who doesn't know the geography well.
Noted on August 23, 2022
With a title like this you think: this is for sure literary fiction. But no: it's a nonfiction guide for pebble collectors. Recommended by Robert MacFarlane's Landmarks as a notable work of British landscape writing, I picked it up and the thing is CHARMING. I mean, I love a well-written niche book, but this is great.
Noted on August 23, 2022
[on serpentine] To touch them after the removal of their coating is to become aware of a sensation that can be best described as caressing, but some unimaginative people have been content to call it soapy.
Quoted on August 23, 2022
We occasionally find pebbles that are piriform (pear-shaped).
Quoted on August 23, 2022
Still, that need not daunt you, for once your interest in, and curiosity about, pebbles has been aroused you will take pleasure in the reading of books on geology that are not too highly technical.
Quoted on August 23, 2022
[on sea glass] Its greenish tinge adds to its charm and it may beguile its finder into the belief that he has found a semi-precious stone of some rarity, perhaps a pebble of chrysoberyl or chrysoprase, greenish stones with delectable names. But these are vain hopes.
Quoted on August 23, 2022
We end this chapter with some words of warning against the artificial intruders on the beach. They can masquerade as pebbles and very successfully lead the unsuspecting searcher to think he has made a rare find. The sea washes up on the beaches a medley of flotsam and jetsam, wreckage, fragments of brick and concrete from quays and jetties and pieces of man-made articles borne by rivers into their estuaries. Man himself is no tidier on the beach than he is on Hampstead Heath on a bank holiday.
Quoted on August 23, 2022
Take two quartzite pebbles, or break one of them into two pieces, and strike one against the other in darkness. An orange-colored flash results. There is also a smell, not unpleasant, but very difficult to describe. It is still more difficult to account for the fact that, if you strike the stones together under water, they will then emit an exactly similar flash and smell.
Quoted on August 23, 2022
Pebble-hunting is a pleasant and health-giving hobby, whether pursued on the beach, the lake-side or the river-bank, and all but those who are nearing the last stages of decrepitude can enjoy it.
Quoted on August 23, 2022
Some fervent pebble-collectors, gifted with mechanical knowledge, unlimited patience and manual dexterity, set up their own workshops and spend gratifying winter evenings in fashioning the pebbles they have hoarded in the summer. Lacking all these enviable qualities, we have not ventured to follow their enterprising example and we counsel you to be equally unresourceful, unless, of course, you are a mechanical genius. The usual rewards of the amateur lapidary are lacerated fingers, splinters of stone in the eyes, mutilated pebbles and a wasteful expenditure of diamond dust.
Quoted on August 23, 2022
Fossils of creatures that lived in Britain at that time reveal the amazing fact that southern mammals, the elephant, the rhinoceros and the hippopotamus, roamed the land and warm-water molluscs inhabited our seas. Altogether the glacial and the inter-glacial periods form so attractive a chapter in the geological history of this country that one is tempted to dwell upon it, but we must confine our attention to the transportation of pebbles by ice.
Quoted on August 23, 2022
Scraping with the knife does not always reveal the surface of the pebble clearly. The only way to see the texture and structure of the pebble in all its clarity is to make a fresh fracture--that is, to break off a piece of it. If you crash one stone against another you risk the loss of a eye. That would not only bring your seaside holiday abruptly to a end but rob you of your zest for pebble-hunting once and for all.
Quoted on August 23, 2022