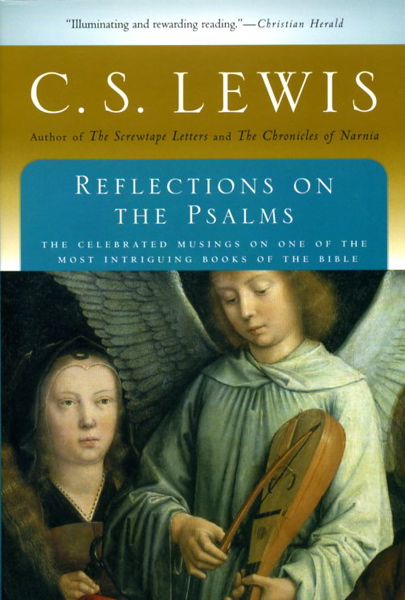 | | |
| --- | --- |
| First Written | 1958 |
| Genre | Religion |
| Origin | UK |
| Publisher | Harcourt |
| ISBN-10 | 015676248X |
| My Copy | cheap paperback |
| First Read | December 05, 2002 |
Reflections on the Psalms
---
There's an interesting section where Lewis investigates the ancient jewish division of creator and creation, as opposed to pagan myths about gods with origins. Those are not properly creators, as they were made themselves. The jews have a rare delight in nature itself - all of it, including wild, remote, and dangerous parts.
Noted on April 20, 2013
Descending lower, we find a somewhat similar difficulty with St. Paul. I cannot be the only reader who has wondered why God, having given him so many gifts, withheld from him (what would to us seem so necessary for the first Christian theologian) that of lucidity and orderly exposition.
Quoted on April 20, 2013
The total result is not "the Word of God" in the sense that every passage, in itself, gives impeccable science or history. It carries the Word of God; and we (under grace, with attention to tradition and to interpreters wiser than ourselves, and with the use of such intelligence and learning as we may have) receive that word from it not by using it as an encyclopedia or an encyclical but by steeping ourselves in its tone or temper and so learning its overall message.
Quoted on April 20, 2013
I had not noticed either that just as men spontaneously praise whatever they value, so they spontaneously urge us to join them in praising it: "Isn't she lovely? Wasn't it glorious? Don't you think that magnificent?" The Psalmists in telling everyone to praise God are doing what all men do when they speak of what they care about. My whole, more general, difficulty about the praise of God depended on my absurdly denying to us, as regards the supremely Valuable, what we delight to do, what indeed we can't help doing, about everything else we value.

I think we delight to praise what we enjoy because the praise not merely expresses but completes the enjoyment; it is its appointed consummation. It is not out of compliment that lovers keep on telling one another how beautiful they are; the delight is incomplete till it is expressed. It is frustrating to have discovered a new author and not to be able to tell anyone how good he is; to come suddenly, at the turn of the road, upon some mountain valley of unexpected grandeur and then to have to keep silent because the people with you care for it no more than for a tin can in the ditch; to hear a good joke and find no one to share it with (the perfect hearer died a year ago). This is so even when our expressions are inadequate, as of course they usually are.
Quoted on April 20, 2013
It leads into the larger question whether the great evil of our civil life is not the fact that there seems now no medium between hopeless submission and full-dress revolution. Rioting has died out, moderate rioting. It can be argued that if the windows of various ministries and newspapers were more often broken, if certain people were more often put under pumps and (mildly-mud, not stones) pelted in the streets, we should get on a great deal better. It is not wholly desirable that any man should be allowed at once the pleasures of a tyrant or a wolf'shead and also those of an honest freeman among his equals. To this question I do not know the answer. The dangers of a change in the direction I have outlined are very great; so are the evils of our present tameness. I am concerned here only with the problem that appears in our individual and private lives. How ought we to behave in the presence of very bad people? I will limit this by changing "very bad people" to "very bad people who are powerful, prosperous and impenitent".
Quoted on April 20, 2013
I am more concerned to try to understand the absence of such a belief [in an afterlife], in the midst of intense religious feeling, over the earlier period. To some it may seem astonishing that God, having revealed so much of Himself to that people, should not have taught them this. It does not now astonish me. For one thing there were nations close to the Jews whose religion was overwhelmingly concerned with the after life. In reading about ancient Egypt one gets the impression of a culture in which the main business of life was the attempt to secure the well-being of the dead. It looks as if God did not want the chosen people to follow that example. We may ask why. Is it possible for men to be too much concerned with their eternal destiny? In one sense, paradoxical though it sounds, I should reply, Yes.
Quoted on April 20, 2013
That, as I say, is a good use to make of the cursings. In fact, however, something else occurred to me first. It seemed to me that, seeing in them hatred undisguised, I saw also the natural result of injuring a human being. The word natural is here important. This result can be obliterated by grace, suppressed by prudence or social convention, and (which is dangerous) wholly disguised by self-deception.
Quoted on April 20, 2013
Worst of all in "The Lord is my shepherd" (23), after the green pasture, the waters of comfort, the sure confidence in the valley of the shadow, we suddenly run across (5) "Thou shalt prepare a table for me against them that trouble me"-or, as Dr. Moffatt translates it, "Thou art my host, spreading a feast for me while my enemies have to look on." The poet's enjoyment of his present prosperity would not be complete unless those horrid Joneses (who used to look down their noses at him) were watching it all and hating it. This may not be so diabolical as the passages I have quoted above; but the pettiness and vulgarity of it, especially in such surroundings, are hard to endure.
Quoted on April 20, 2013
Why do the Psalms look at the idea of 'Judgement' so happily?
The reason for this soon becomes very plain. The ancient Jews, like ourselves, think of God's judgement in terms of an earthly court ofjustice. The difference is that the Christian pictures the case to be tried as a criminal case with himself in the dock; the Jew pictures it as a civil case with himself as the plaintiff. The one hopes for acquittal, or rather for pardon; the other hopes for a resounding triumph with heavy damages.
Quoted on April 20, 2013
Those who talk of reading the Bible "as literature" sometimes mean, I think, reading it without attending to the main thing it is about; like reading Burke with no interest in politics, or reading the Aeneid with no interest in Rome. That seems to me to be nonsense. But there is a saner sense in which the Bible, since it is after all literature, cannot properly be read except as literature; and the different parts of it as the different sorts of literature they are. Most emphatically the Psalms must be read as poems; as lyrics, with all the licences and all the formalities, the hyperboles, the emotional rather than logical connections, which are proper to lyric poetry.
Quoted on April 20, 2013
THIS IS not a work of scholarship. I am no Hebraist, no higher critic, no ancient historian, no archaeologist. I write for the unlearned about things in which I am unlearned myself. If an excuse is needed (and perhaps it is) for writing such a book, my excuse would be something like this. It often happens that two schoolboys can solve difficulties in their work for one another better than the master can. When you took the problem to a master, as we all remember, he was very likely to explain what you understood already, to add a great deal of information which you didn't want, and say nothing at all about the thing that was puzzling you. ... The fellow-pupil can help more than the master because he knows less. The difficulty we want him to explain is one he has recently met. The expert met it so long ago that he has forgotten.
Quoted on April 20, 2013